Whiteman's Green Jubilee Bench
Council News — 24th January 2023
Cuckfield Parish Council is pleased to announce another jubilee bench has been installed at Whiteman's Green.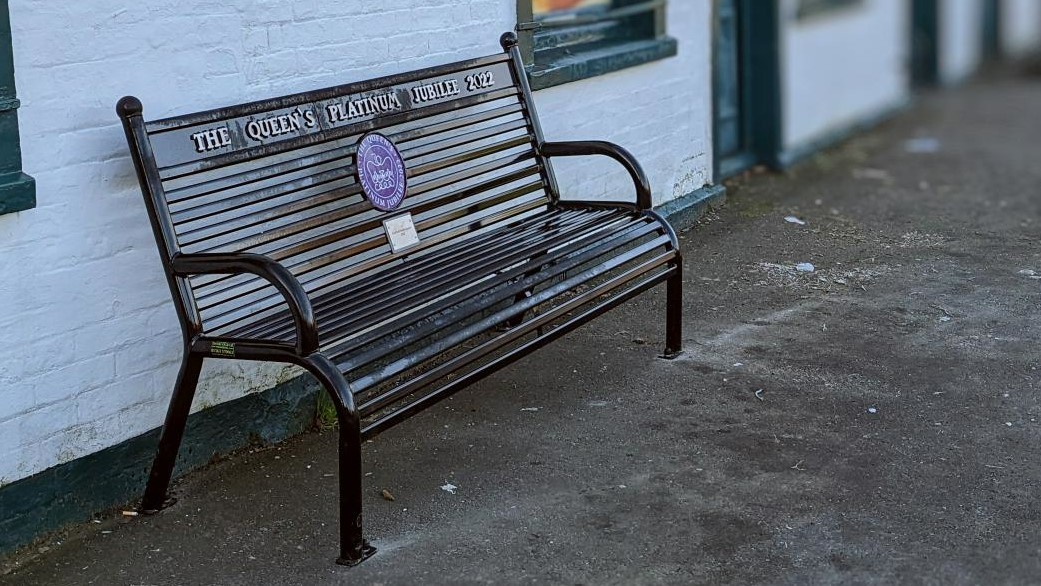 Cuckfield venues available for hire
Hall Hire — 20th January 2023
Get in touch for more information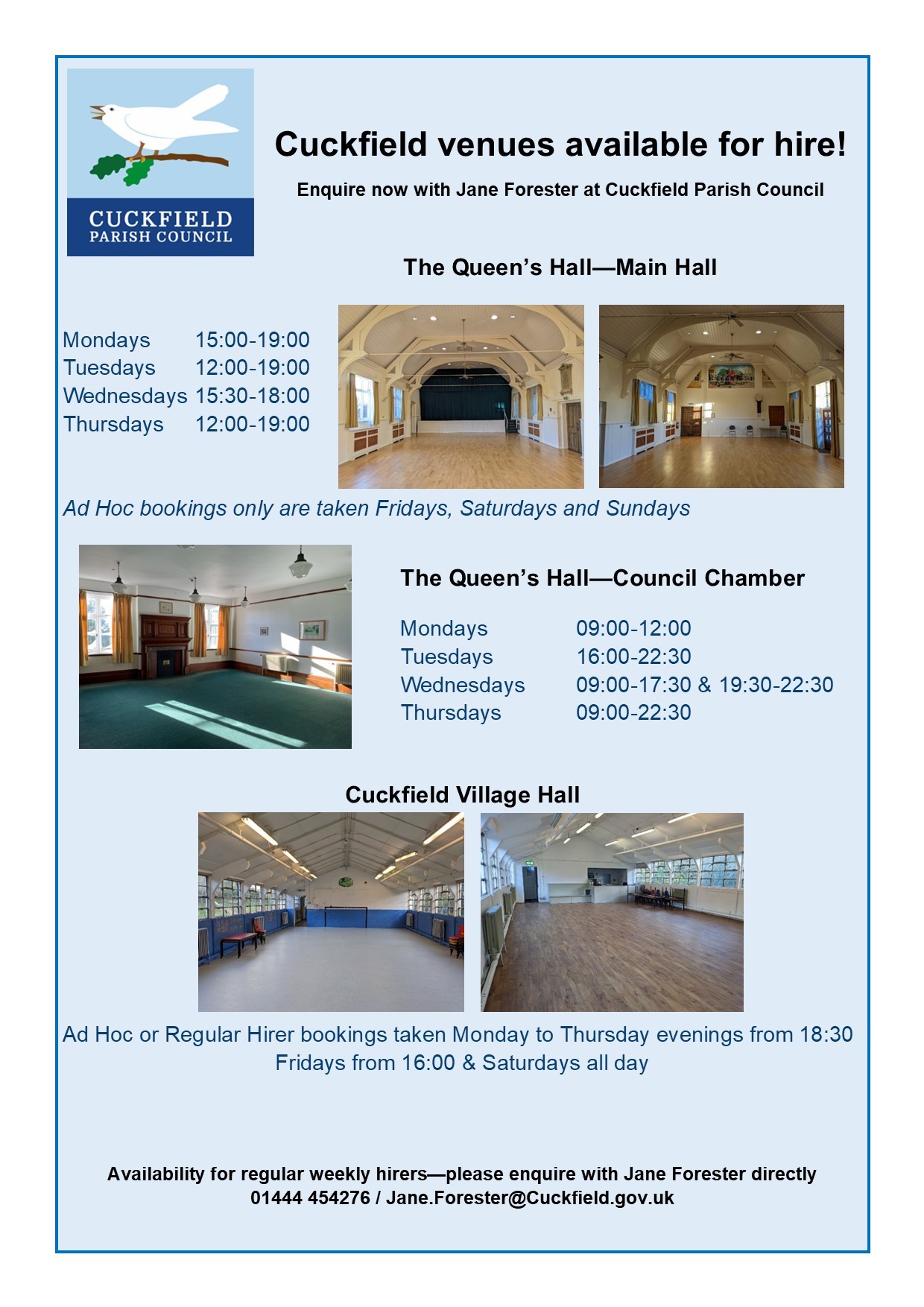 Rural Cost of Living Survey - Your Help Needed to Encourage Participation
Advice — 18th January 2023
Five ways to connect with nature in January
The Countryside Charity — 18th January 2023
'Observing nature is about looking outwards and helps to anchor us during these distressing times'. From starting your own nature diary to embracing the joy of puddles, Writer and naturalist Susie White shares five ways you can connect with nature this month from her corner of the countryside - a small valley in the North Pennines Area of Outstanding Natural Beauty.

Read more: A month in the countryside: connecting with nature in January - CPRE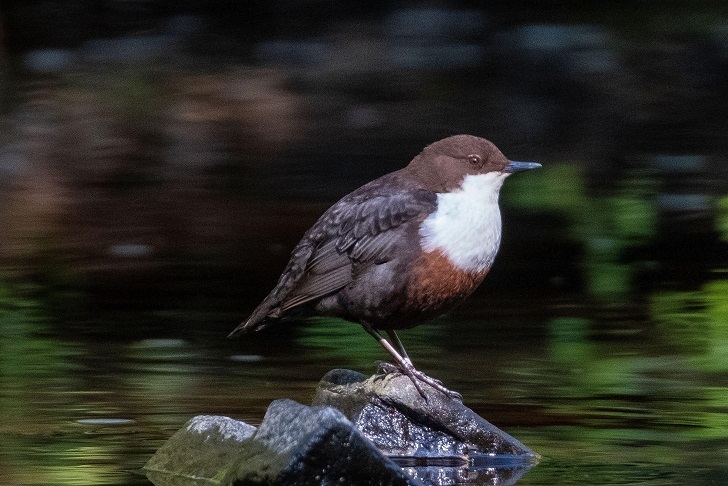 Brownfield land for 1.2 million homes lying dormant
The Countryside Charity — 18th January 2023
As the affordable housing crisis deepens, our 2022 state of brownfield report found – yet again – that the number of new homes that could be built on brownfield land remains high. In fact, it has reached record levels, with more than half a million homes with planning permission waiting to be built.

Find out more: Brownfield land for 1.2 million homes lying dormant, our report shows - CPRE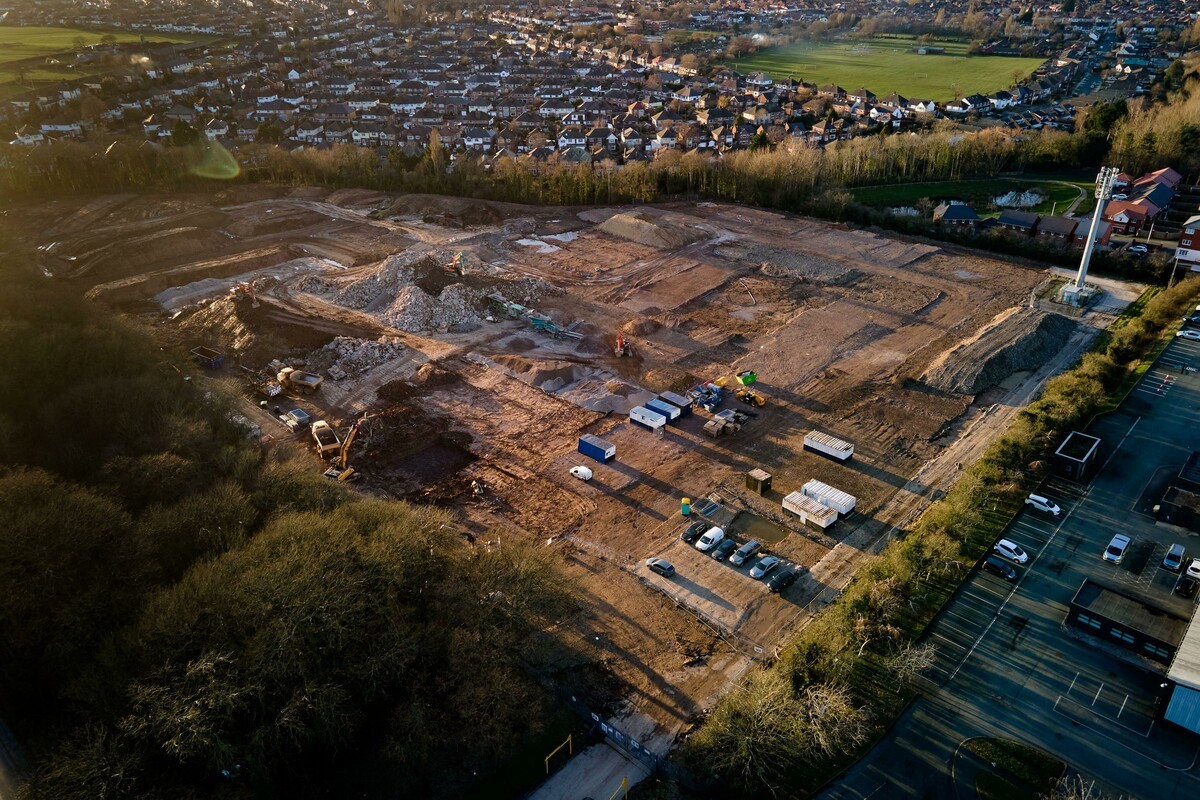 Save the date for Star Count!
The Countryside Charity — 18th January 2023
Save the date and sign up to count the stars with CPRE, The Countryside Charity, between 17 and 24 February! Your counts will help make a map of where star-spotters are enjoying deep, dark skies. By showing on a map where light pollution is most serious, CPRE can work with local councils and others to decide what to do about it. Last year, thousands of you took part and CPRE hope you'll join them again this year!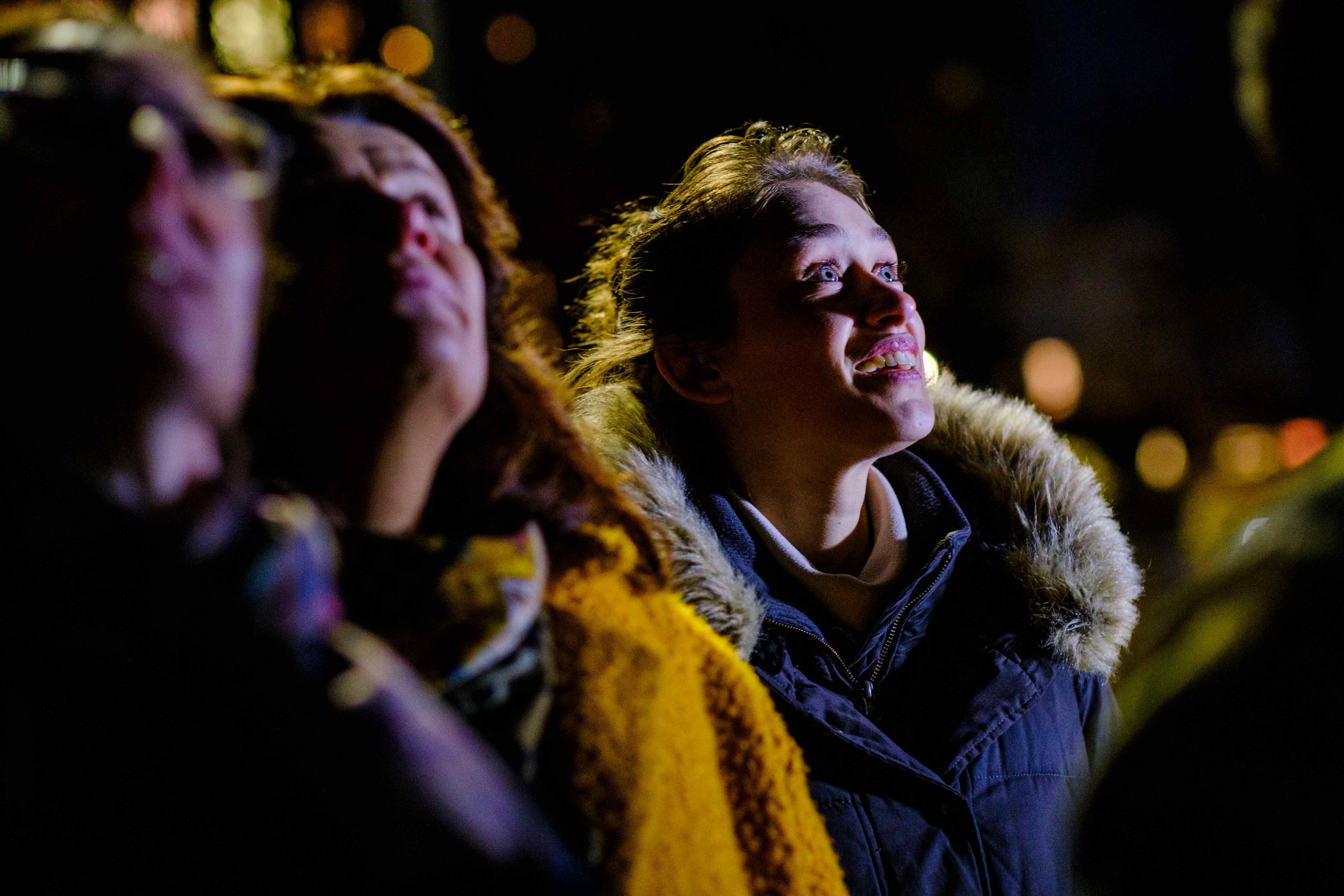 New NHS certified digital weight management service available free to people in West Sussex
WSCC Press Release — 16th January 2023
A new digital weight management service is being offered by West Sussex County Council free to access for people who live or work in the county.
The programme aims to support people to lose weight and maintain their health. People will be given help to sustain healthy habits and achieve self-selected goals through access to education, recipes, on-demand exercise classes, group and one-to-one coaching.
The Council's Public Health department is funding access to the 'Gro Health' app in response to growing numbers of people who are overweight or obese, in addition to a range of existing funded weight management services available via West Sussex Wellbeing and the NHS. Gro Health will offer an additional local programme for those wanting access to free digital support who do not qualify for the NHS digital weight management offer. The number of adults who are overweight or obese in West Sussex has increased from 61.6% in 2019/20 to 63.8% in 2020/21 and 23.3% were classified as being obese.
Gro Health can be accessed online using a phone, tablet or computer, without the need to download any special software. The service can also be accessed via free apps available for both iPhone and Android for those who wish to download them.
It is the first time that people in West Sussex have been offered free access to such an innovative digital service for weight management without a GP referral.
Bob Lanzer, Cabinet Member for Public Health and Wellbeing at West Sussex County Council, said: "We are excited to be offering this clinically proven, free weight management app at a time of year when many people decide they want to make changes to improve their health and wellbeing. As the programme provides personalised support for up to 12 months and is available in 19 languages, we can help support more people across West Sussex to lose weight and maintain their health in the longer term.
"It is central to the commitment outlined in Our Council Plan for us to help people maintain and improve their health and wellbeing through advice and support.
"The Gro Health app is one of a range of options we provide to support people who want to lose weight. Our West Sussex Wellbeing weight management service also offers tailored weight management programmes with a Wellbeing advisor for those who prefer a non-digital approach."
Michaela de la Fosse, Operations Manager at DDM Health, providers of the Gro Health app said: "We are delighted to support people in West Sussex with Gro Health. The service has been co-developed with clinicians and residents to support their journey to a healthy weight and improve mental health. I can't wait to see the impact of our programme to the residents of West Sussex."
Gro Health has been shown to support people to lose weight, improve their mental health, reduce medications and even reverse conditions such as prediabetes and type 2 diabetes. 
In one study, on average, people completing the programme report an average weight loss of 6.9kg, or 6.5% of their starting weight[1].
In another study, after 12 weeks' of app use, people using the app reduce their stress levels by 23% and anxiety levels by 31%.[2]
People can check their eligibility and access the Gro Health service through the West Sussex Wellbeing website.
[1] Saslow L, Summers C, Aikens J, Unwin D. Outcomes of a Digitally Delivered Low-Carbohydrate Type 2 Diabetes Self-Management Program: 1-Year Results of a Single-Arm Longitudinal Study. JMIR Diabetes 2018;3(3):e12
[2] Summers C, Wu P, Taylor A. Supporting Mental Health During the COVID-19 Pandemic Using a Digital Behavior Change Intervention: An Open-Label, Single-Arm, Pre-Post Intervention Study JMIR Form Res 2021;5(10): e31273
The Tier 2 Weight Management Service is available in Gro Health, a digital platform developed by DDM Health.
DDM Health has already helped more than 1.8m people to improve their health by offering online support and advice. Visit https://ddm.health for more information.
DDM is recognised by the Healthcare UK/Department of International Trade as a Top 100 Digital Health Company.
Gro Health is available on the web, iOS, Android, smart watch, Fire TV, voice-activated assistants and smart speakers.
Gro Health is certified by the NHS (DTAC-certified) and the highest-rated health app in the UK (Orcha, 97%).
For more information, visit https://www.GroHealth.com or search for Gro Health in the App Store.
Met Office - Level 3 Cold Weather Alert
WSCC Press Release — 16th January 2023
The Met Office has issued a Level 3 Cold Weather Alert. There is a 90% probability of severe cold weather and icy conditions between 0900 on Monday 16 Jan and 0900 on Friday 20 Jan in parts of England. This weather could increase the health risks to vulnerable patients and disrupt the delivery of services. Please refer to the national Cold Weather Plan and your Trust's emergency plan for appropriate preventive action.
View the full warning at the Met Office Cold Weather Alert site.
Cold weather can affect your health. The people most likely to be affected are the elderly, the very young, and people with pre-existing medical conditions.
There are lots of ways you can help yourself and your family in the cold weather:
Heat your home to at least 18⁰C
Keep moving – regular activity keeps you feeling warmer
Wear multiple layers of clothes inside and outside
Find out more about how to keep yourself well and your home warm during winter by visiting the NHS Keep Warm Keep Well website.
For more information go to:
Just the ticket: get around for £2 or less on most West Sussex bus routes in New Year
WSCC Press Release — 5th January 2023
A new scheme is giving people the opportunity this winter to pay less to travel by bus in West Sussex – and the whole of England.
From now until 31 March, 2023, a single bus journey will cost no more than £2 on most routes under the Department for Transport's Help for Households funded Bus Fare Cap.
Buses Minister Richard Holden said: "Bus travel remains the most popular form of public transport in England, making up around half of all journeys. That's why we're investing £60million to cap single bus fares at £2 to support every passenger and help get people back on the bus.  
"With the scheme set to take two million car journeys off the road, it's fantastic to see so many bus operators signing up to the fare cap, helping people to 'Get Around for £2' between the 1st January and 31st March."  
There has been a gradual return to the buses in West Sussex since Covid-19 restrictions were lifted. Bus companies have been working hard to encourage people to get back on board and have made many improvements: passengers will find better ventilated vehicles since before the pandemic, with more advanced cleaning regimes used by the bus operators. Many of their vehicles have free Wi-Fi and all have contactless payment now.
Joy Dennis, West Sussex County Council's Cabinet Member for Highways and Transport, said: "The £2 fare cap is a great opportunity for people to get on board buses for less: they can save money on petrol costs while keeping in touch with friends and family, travelling to appointments or work, or exploring our beautiful towns and countryside.
"Buses provide a more sustainable way to travel and are a vital link for residents to access key services including healthcare, education, shops and leisure facilities, and can help combat social isolation, too."
For more information, here are weblinks to the main participating bus operators in West Sussex:
Brighton & Hove - https://www.buses.co.uk/2-fare
Compass Travel - https://www.compass-travel.co.uk/2pound-fares/
Metrobus - https://www.metrobus.co.uk/2-fare
Southdown Buses - https://www.southdown.net/2-pound-cap
Stagecoach - https://www.stagecoachbus.com/promos-and-offers/national/2-pound-fare
The full list of participating bus companies is available on the Gov.UK website:
https://www.gov.uk/guidance/2-bus-fare-cap 
NB: there are no changes to the national bus pass scheme for older and disabled people. Free bus pass holders will continue to receive free travel under the terms of that scheme.
Haywards Heath Food Bank
Council News — 4th January 2023
Please find below the thank you letter received from Haywards Heath Food Bank.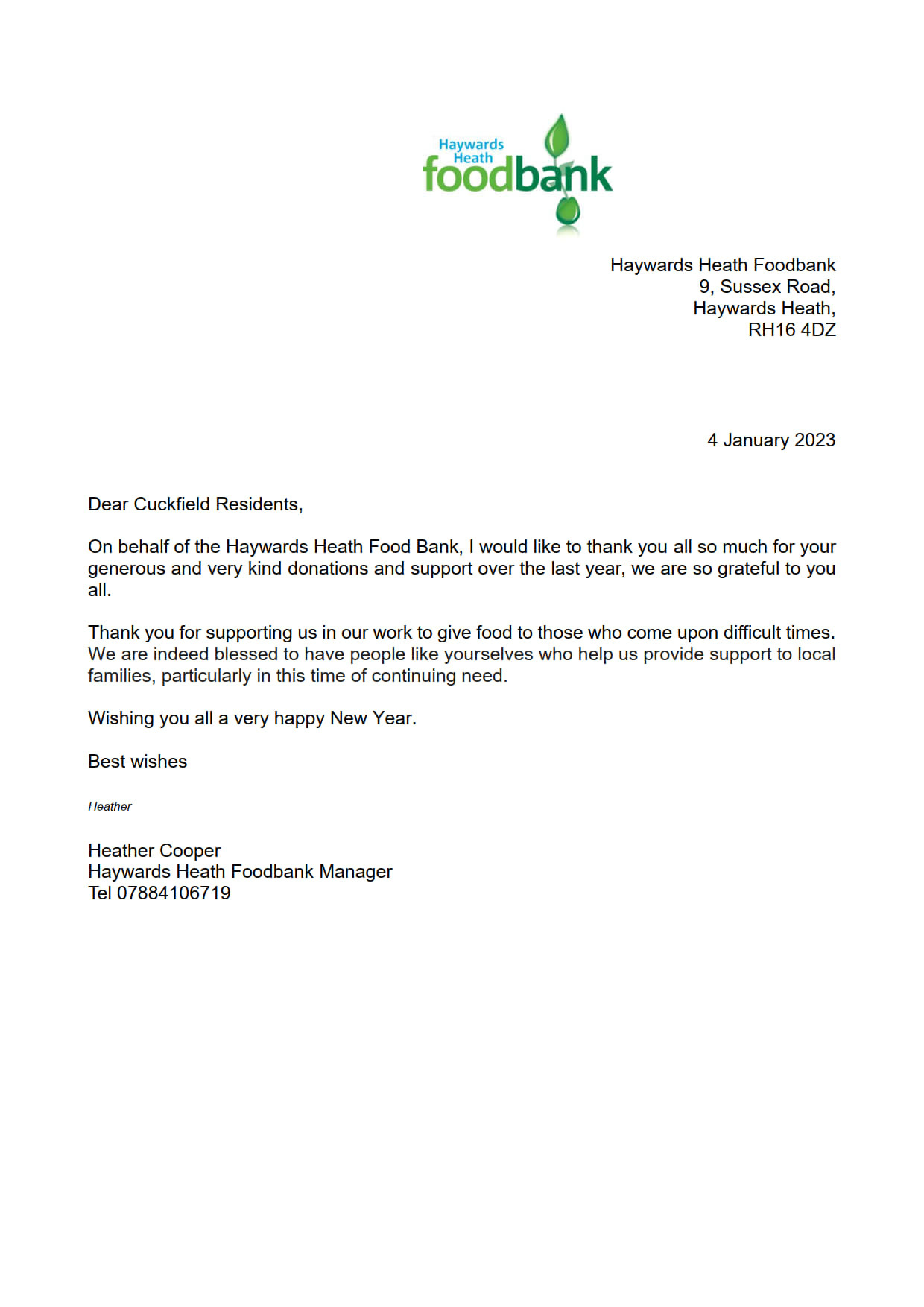 Reminder: apply for primary school places before 15 January
WSCC Press Release — 3rd January 2023
Families have until 15 January 2023 to submit their children's primary school application on time to have the best chance of being offered one of their preferred schools.
Parents and carers of children currently in Year 2 at infant school should also apply for a place at junior school before midnight on Sunday, 15 January.
Children born between 1 September 2018 and 31 August 2019 are eligible to start school in September 2023.
The quickest and easiest way is to apply online on our website, where people can find all of the information they need. All West Sussex libraries have free use of computers and staff on hand to help people with their application.
Those unable to apply online should call the admissions team on 033 301 42903 for support.
Nigel Jupp, Cabinet Member for Learning & Skills said: "Applications received on time are processed first so families who submit them before midnight on 15 January have a far greater chance of being offered one of their preferences. Those who miss the deadline will still need to apply for a school place, their child won't automatically be offered a place, so I would urge anyone yet to apply to do so as soon as they can.
"West Sussex County Council is working to continually improve educational standards in all parts of the county. Currently, 88% of West Sussex primary schools are rated good or outstanding by Ofsted and 64,000 primary children are being nurtured and supported to enjoy their education and fulfil their potential in our schools."