The word Cuckfield is believed to be Saxon for a clearing in the forest or the haunt of the cuckoo. Certainly, this historic English village is set on the Sussex Weald with magnificent views right across the South Downs.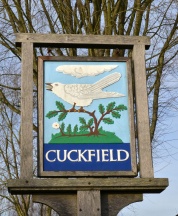 Our heritage
On the northern heights the bones of an iguanodon were found and, at the southern edge of the village, there was a bronze/iron age settlement. The parish church is nine hundred years old and the old grammar school, one of the earliest in the country, dates back to the period of Henry VII.
High Street
Once the market town and key administrative centre in the district, the High Street is lined with attractive 16th century houses and several of the pubs are associated with the village heyday as a major coaching stop on the old London to Brighton route.
The Queen's Hall
The Queen's Hall, erected in 1897 to celebrate Queen Victoria's Diamond Jubilee, contains the Parish Council Office and Museum.
Town and countryside
The village is surrounded by beautiful countryside with famous gardens nearby. It offers specialist shopping, two hotels, four public houses, bed & breakfast accommodation and restaurants.
Easy access
Cuckfield has easy access to the M23/A23 motorway, the main-line railway is only two miles away and Gatwick airport is about fifteen miles away.
Visit our village
Cuckfield is very well located and easy to access.
Have a look at our map to find your way around the village.